Population Research Discovery Seminars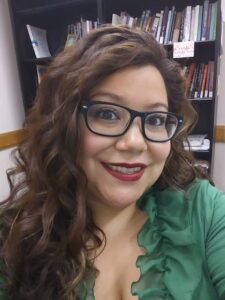 Nourishing Juana Crow: Fragmented Families and Mental Health Injuries
San Juanita Garcia, Assistant Professor, Department of Chicana and Chicano Studies, University of California, Santa Barbara
---
Register for Zoom Seminar HERE
02/25/2022
12:30-1:30 PM PT
Co-Sponsor(s):
This talk stems from a larger book project tentatively titled: Living Juana Crow: How Legal Violence Shapes the Stress and Mental Health of Mexican-origin Women. This talk centers on families, including mixed-status families, fragmented families, and separated families and draws attention to the mental health injuries induced by what I coin as Juana Crow. I conceptualize Juana Crow as a framework to help illustrate the stress and mental health injuries Mexican-origin women experience associated with enduring legalized violence and navigating intersectional systems of oppression. I expose Juana Crow vis-à-vis laws/policies, families, and access to care elucidating the stress and mental health injuries Mexican-origin women endure through legalized forms of discrimination. My research highlights the spillover and collateral damages associated with "illegality" on families and communities, what I call "vicarious illegality." Although U.S. birthright citizenship suggests that those born in the U.S. cannot be deported, thus representing a privileged status, my findings suggest that even "legal" immigrants and Mexican-American women remain negatively affected by Juana Crow. Based on 90 semi-structured interviews, ethnographic observations spanning two years in Houston, TX., and Chicana and Black feminist methods, I interweave social science methods with familial and personal lived experiences in assisting me to theorize about larger social structural and intersectional inequities. This talk takes us into how Juana Crow is nourished by honing in on the social institution of the family, to examine the ways in which Juana Crow influences families at the micro and interpersonal levels.
---
San Juanita García is an Assistant Professor in the Department of Chicana and Chicano Studies at the University of California, Santa Barbara. She earned a PhD and a Master of Science in Sociology from Texas A&M University. She has a Bachelor of Arts degree in Criminal Justice and Spanish, with a minor in Sociology from Sam Houston State University. Juanita has postdoctoral experience from The Ohio State University in Sociology and the University of North Carolina, Chapel Hill and Duke University (joint program) as a Mental Health Postdoctoral Fellow. After 3 years of postdoctoral experience, Juanita joined the Sociology Department at the University of California, Riverside as an Assistant Professor for two years before moving to her current position.
Juanita's research interests include: race/class/gender, immigration, intersectionality, medical sociology, sociology of mental health, Latinx sociology, qualitative methods, aging, and social determinants of health. Juanita's research explores how a deportation regime and racialization practices embedded in an anti-immigrant climate fuel discrimination and impact intra-group relations, identity, stress, and the mental health of Mexican-origin women. Juanita's  collaborative research (with Dr. Bruce Link, Distinguished Professor of Sociology and the School of Public Policy at UC Riverside) highlights an underrepresentation of research on the role advantaged groups play in creating health inequities through a concept they call health-inequality diversions. Diversions occur when research ignores, underplays, or excuses the actions of more advantaged individuals and groups for the part they play in producing health inequalities. Juanita's research program demonstrates her commitment to advancing health equity for marginalized populations, and a commitment to linking research with students and communities.