Congratulations to our Best Poster Award Winner!
Posted: 12/10/2021 ()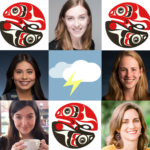 Congratulations to CSDE Trainee Elizabeth Pelletier (Doctoral Candidate, Evans School of Public Policy and Governance) for winning the best poster award during CSDE's Autumn 2021 Lightning Talks & Poster Session this past Friday. Pelletier's presentation, titled "Neighborhood Racial Composition and Police Use of Force in Seattle," included geospatial analysis of 911-call data to capture the frequency of policy use of force across the city. Many thanks to our other speakers, Elizabeth Nova (Sociology), Aja Sutton (Geography), and Ellyn Terry (Public Policy), our Interim Training Director Jessica Godwin, and our student coordinator Courtney Allen, for another great CSDE Lightning Talks & Poster Session. Finally, we want to thank everyone who attended and, especially, our wonderful CSDE Faculty Affiliates Panel of poster judges: Peter Catron, Laura Dwyer-Lindgren, Jerry Herting, and Marieka Klawitter.
Affiliates