CSDE Affiliates Colburn and Fyall Issue New Report About COVID-19 And Hotels as Non-Congregate Emergency Shelters
Posted: 12/7/2020 (CSDE Research)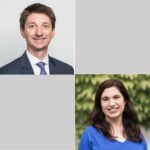 CSDE Affiliates Greg Colburn and Rachel Fyall, along with UW graduate students Samantha Thompson and Taquesha Dean and colleagues at King County, have just released a new report on hotels as emergency shelter in King County during the COVID-19 pandemic. The full report can be downloaded here. The research team used interviews and administrative data to understand the effects of moving individuals from high-density congregate emergency shelters to hotel rooms on COVID-19 spread as well as on individuals' housing, health, and economic outcomes. Critical findings include:
The shelter deintensification strategy limited the spread of COVID-19 among individuals moved to hotel locations as compared to those who stayed in congregate settings.
The intervention also produced other benefits to the people who were relocated. Individuals who moved to area hotels — an arrangement managed by the County and social service providers — reported improved physical and mental health, and the ability to focus on long-term goals such as obtaining housing, employment and education, rather than simply focusing on day-to-day survival.
Affiliates