CSDE Big Data To Knowledge (BD2K) Predoctoral Graduate Fellowships
Posted: 10/17/2016 (Funding)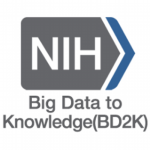 CSDE announces two 12-month fellowships funded by the National Institutes of Health (NIH) as part of the Big Data to Knowledge (BD2K) initiative. The fellowships are the result of a partnership between CSDE, CSSS and the eScience institute. The BD2K fellowship program is designed to provide integrated training in three core areas essential for future advances in demographic research: demography, statistics (and machine learning), and computing (programming, data management, etc). The goal of this initiative is to prepare a new generation of population scientists who are well versed in data science, computational methods and social statistics and who will harness the power of new, diverse, complex, and unstructured data sources to address important research questions in the biomedical, behavioral and social sciences.
The fellowships will begin in the Winter 2017 quarter, and provide fellows with a monthly stipend at the NIH predoctoral level and $500 to attend conferences. CSDE will pay full tuition, the graduate operating fee, and health insurance premiums.
Current Graduate Students who are in PhD programs of CSDE Affiliated Departments or Schools (Anthropology, Epidemiology, Geography, Health Services, Public Affairs, Social Work, Sociology, and Statistics) are eligible to apply.
Fellowship recipients are required to maintain continuous residence, remain in good standing in their home department, complete the core sequence of courses in demography (e.g., CSDE/SOC 533 "Demographic Methods" and SOC 590 "Data Science and Population Processes"), pursue advanced training in statistics or machine learning (e.g., by completing a CSSS track or other coursework, as appropriate), and take appropriate courses in the area of Software Development and Data Management (e.g., CSE 599 "Software Development for Data Scientists, CSE 414 "Introduction to Data Management"). Successful applicants have likely completed some coursework in at least two of the three core areas.
Fellowship recipients are required to attend at least one quarter of the CSDE seminars, at least one quarter of the CSSS seminars and at least one quarter of the eScience Community seminars. Fellows are also required to work with a mentoring team on a mutually agreed upon research project for 15-19 hours per week. The mentoring team should be composed of at least 2 affiliates of CSDE, CSSS or eScience, with the appropriate expertise in methods and the substantive area of research.
The application package includes:
Curriculum Vitae
Current transcripts
Statement of proposed research project (max 600 words, not including references and figures)
Three brief essays (200 words max) describing your interest, experience, and competency in each of the BD2K core areas (demography, statistics, and computing). For any areas in which your background is deep, explain how your previous activities (e.g. research projects, CSDE training program, specific courses, CSSS track) provide competency in the area. For areas in which you have less experience, explain how the BD2K fellowship will catalyze new research and learning opportunities that will advance your career. Successful candidates will likely demonstrate competency in at least two of the three areas.
Responses to an online questionnaire. As part of the questionnaire, you will be asked to list the names and affiliations of two mentors that would be part of your mentoring team. Priority will be given to mentoring teams that span the competency areas (demography, statistics, and computing). Mentors should be affiliates of CSDE, CSSS, or the eScience institute. Please contact your mentors before listing them on your application. If you are selected as a finalist, the selection committee will request letters of support from both mentors.
All the documents (except for the online questionnaire) must be submitted in .pdf format. Please combine all the documents into a single pdf document. Please use the following file name: CandidateLastName_CandidateFirstName_BD2K.pdf where you replace CandidateLastName with your last name and CandidateFirstName with your first name.
Submission link for single PDF file: https://www.dropbox.com/request/7sHujYHICwHy1RhkKG6P
Link to the online questionnaire: https://goo.gl/forms/LUvXL0w9uiBdHWh22
Deadline: 10/24/2016