Center for Studies in Demography and Ecology
The Importance of Community-Generated Data for Urban Resilience: Reflecting on Water Stories from Cape Town, South Africa
Posted: 11/19/2021 (CSDE Seminar Series)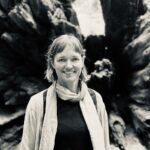 Following the holiday, we will host Gina Ziervogel, Associate Professor of Environmental and Geographical Science at University of Cape Town, South Africa. Dr. Ziervogel will present on a transdisciplinary project undertaken by academics, an NGO and a social movement, aimed at finding a way to integrate  community-generated data on the City of Cape Town's water services and infrastructure into the government's Water Strategy.
You can register for the seminar HERE, and check out all the upcoming topics and register for future seminars on our website.
This seminar is co-sponsored with the Population Health Initiative and the Center for Health and the Global Environment (CHanGE).
Date: 12/03/2021
Time: 12:30-1:30 PM PT
Location: Virtual on Zoom