Congratulations to Our Poster Presenters!
Posted: 3/16/2022 (CSDE Seminar Series)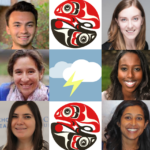 Congratulations to all our poster presenters for their very good work! Extra kudos to CSDE Trainee Maria Vignau Loria & CSDE Fellow Aasli Nur (joint presentation – Sociology) for winning the best poster award during CSDE's Winter 2022 Lightning Talks & Poster Session. Vignau Loria & Nur's presentation, titled "The diffusion of scientific knowledge on family planning behavior: when, where, and by whom is research being done?," included analysis of publication authorship, descriptively breaking down the geographic dispersion of research activity and the demographics of authors. Many thanks to our other speakers, Nicholas Irons (Statistics), Ihsan Kahveci (Sociology), Zoe Pleasure (Health Systems & Population Health), and Maitreyi Sahu (Health Metrics Sciences), our Interim Training Director Jessica Godwin, and our student coordinator Courtney Allen, for another great CSDE Lightning Talks & Poster Session. Finally, we want to thank everyone who attended and, especially, our wonderful CSDE Faculty Affiliates Panel of poster judges: Bettina Shell-Duncan, Julie Brines, Jessica Jones-Smith, and Darryl Holman.