Congratulations to the Best Poster Award Winners!
Posted: 12/17/2020 (CSDE Research)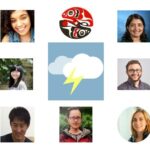 Congratulations to CSDE Trainees Ellyn Terry (Evans School of Public Policy and Governance) and Vedavati Patwardhan (Evans School of Public Policy and Governance) who received best poster awards during CSDE's Trainees' Lightning Talks and Poster Session (posters are available for viewing here). Terry presented "Is Diabetes Reducing the Potential Size of the Workforce?" and Patwardhan presented "Maternal Cash Transfers and Child Nutrition: Evidence from India". Many thanks to the audience and expert reviewers (Arthur Acolin (Real Estate), Scott Allard (Evans School), Ruanne Barnabas (Epidemiology), Maria Bleil (Nursing), Kyle Crowder (Sociology),  Melissa Knox (Economics), and Nathalie Williams (Sociology)) who assessed the quality of the posters and presentations using criteria based on the innovation, quality and appropriateness of research design and methodology, effectiveness in communicating the research, overall design and organization of the poster and effectiveness of visualizations. Keep an eye out for next quarter's session scheduled for March 12!
Attendees at this quarter's poster session also had the opportunity to learn about energy justice, the externalities of the minimum wage, marriage and mortality, and pollution and civic engagement from the other excellent presentations given at the Lightning Talks. Zhaowen Guo (Political Science) presented "Livestreaming Pollution: Information Provision and Civic Engagement in Authoritarian Regimes," Yohan Min (College of Built Environments) presented "Energy Justice for Where and Who—Distributional and Recognition Justice," Isaac Sederbaum (Evans School) presented "Is Wage Theft an Externality of Seattle's Minimum Wage," and June Yang (Sociology) presented "Individual and Contextual Effects Model of Marriage and Mortality: China 1990."
CSDE was lucky to have Maxine Wright, CSDE Trainee, and Sociology Doctoral Student, organize the Lightning Talk session. Maxine helped recruit presenters, advertise the event, brainstorm an innovative method for holding the lightning talks remotely, and coordinate with the large number of people required to make the event a success. CSDE Training Director, Christine Leibbrand, invited a diverse panel of CSDE Affiliates to rate the posters and provide individual feedback.
A large number of CSDE members attended the virtual session online. Their engagement, insightful questions and thoughtful written feedback to the presenters contributed significantly to the success of this event.
Affiliates