Population Research Discovery Seminar: Robert Plotnick, Scott Allard, Marieka Klawitter, and Jennifer Romich
Posted: 5/1/2017 (CSDE Seminar Series)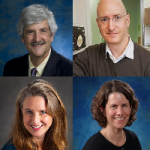 Population Dynamics, Poverty, and Policy
Co-Sponsor: West Coast Poverty Center
Please join CSDE and the WCPC for this special panel reflecting on the past, present and future of the field of population and poverty research. In honor of Professor Robert Plotnick's long and distinguished career as a leader in this field, he and three esteemed UW poverty researchers will highlight the overarching issues that demographers have grappled with in poverty and policy research, as well as current research in the areas of poverty and geography, financial inclusion and asset building, and income supports for populations experiencing poverty.
Robert D. Plotnick is the Daniel J. Evans Professor of Public Policy and Governance. He joined the School in 1984, after previously serving on the faculties of Bates College (1975-77) and Dartmouth College (1977-84). Plotnick also holds appointments as Adjunct Professor in the University of Washington's Department of Economics and as a Research Affiliate with UW's Center for Studies in Demography and Ecology and West Coast Poverty Center, and with the Institute for Research on Poverty at the University of Wisconsin. He directed the Center for Studies in Demography and Ecology from 1997 to 2002 and was Associate Dean of the School from 1990 to 1995 and 2011 to 2016.
Scott W. Allard is a Professor at the Evans School of Public Policy and Governance. His work focuses on issues of poverty, place, and safety net policy in the US. In addition to his faculty appointment at the University of Washington, Allard is a nonresident senior fellow at the Brookings Institution's Metropolitan Policy Program, co-primary investigator of the Family Self-Sufficiency Data Center at the University of Chicago, and a research affiliate of the Institute for Research on Poverty at the University of Wisconsin-Madison.
Marieka M. Klawitter joined the Evans School faculty in 1990. Her research focuses on public policies that affect work and income, including studies of the effects of asset-building policies, welfare policies, intra-household bargaining, and anti-discrimination policies for sexual orientation. She teaches courses on public policy analysis, quantitative methods, program evaluation, asset-building for low income families, and sexual orientation and public policy. Klawitter holds a Ph.D. in Economics from the University of Wisconsin, and a MPP and AB in Economics from the University of Michigan.
Jennifer Romich is an Associate Professor of Social Welfare at the UW School of Social Work and Director of the West Coast Poverty Center. Romich studies resources and economic in families with a particular emphasis on low income workers, household budgets and families' interactions with public policy. Her current work focuses on the economic safety net for poor families, the child welfare system, and labor standards policies including the minimum wage and paid leave. She teaches policy and policy practice classes. Romich holds bachelor's and master's degrees in economics and earned a doctorate in human development and social policy from Northwestern University.
Date: 05/05/2017
Time: 12:30 - 1:30 PM
Location: University of Washington, Raitt 121
Affiliates